Our highest priorities are safety, quality & efficiency:
Safety
Can this be done safely? Are we being safe? Is this safe to others around us? Will this cause personal injury or property damage, now or in the future?
Quality
Provide the very best quality workmanship and material money can buy as safely as possible.
Efficiency
We strive to improve efficiency of performance while producing the best quality workmanship and materials as safely as possible.
"My interaction with Mike was in regards to the Sun Valley Amphitheater and its copper roof. This project was an extremely complicated roof that required significant customization of copper roof shingles as well as productively because the project had a very tight schedule. In the time that I worked with Mike, he was extremely capable regarding his ability to hand work the custom copper panels. This is a skill that not many people in the world have anymore and I was very impressed. His quality was also extremely high. There were not any areas that I saw at the end of the project that required any rework. In regards to his productivity as well as the productivity of his crew, I was probably most impressed with this aspect of his work. He used a relatively small crew and got the project done well ahead of what I thought was possible. Part of that was his ability to plan ahead but it also had a lot to do with the fact that Mike came up with a mobile positioning device that allowed his crew to work in an ergonomically efficient manner. I believe the positioning device allowed the men to not only install large quantities of shingles each ay, but it also allowed them to work day after day without wearing out. In short, I would highly recommend Mike for any custom architectural roof."
– Robert Zahner, Senior Vice President, Zahner Company Architectural Metal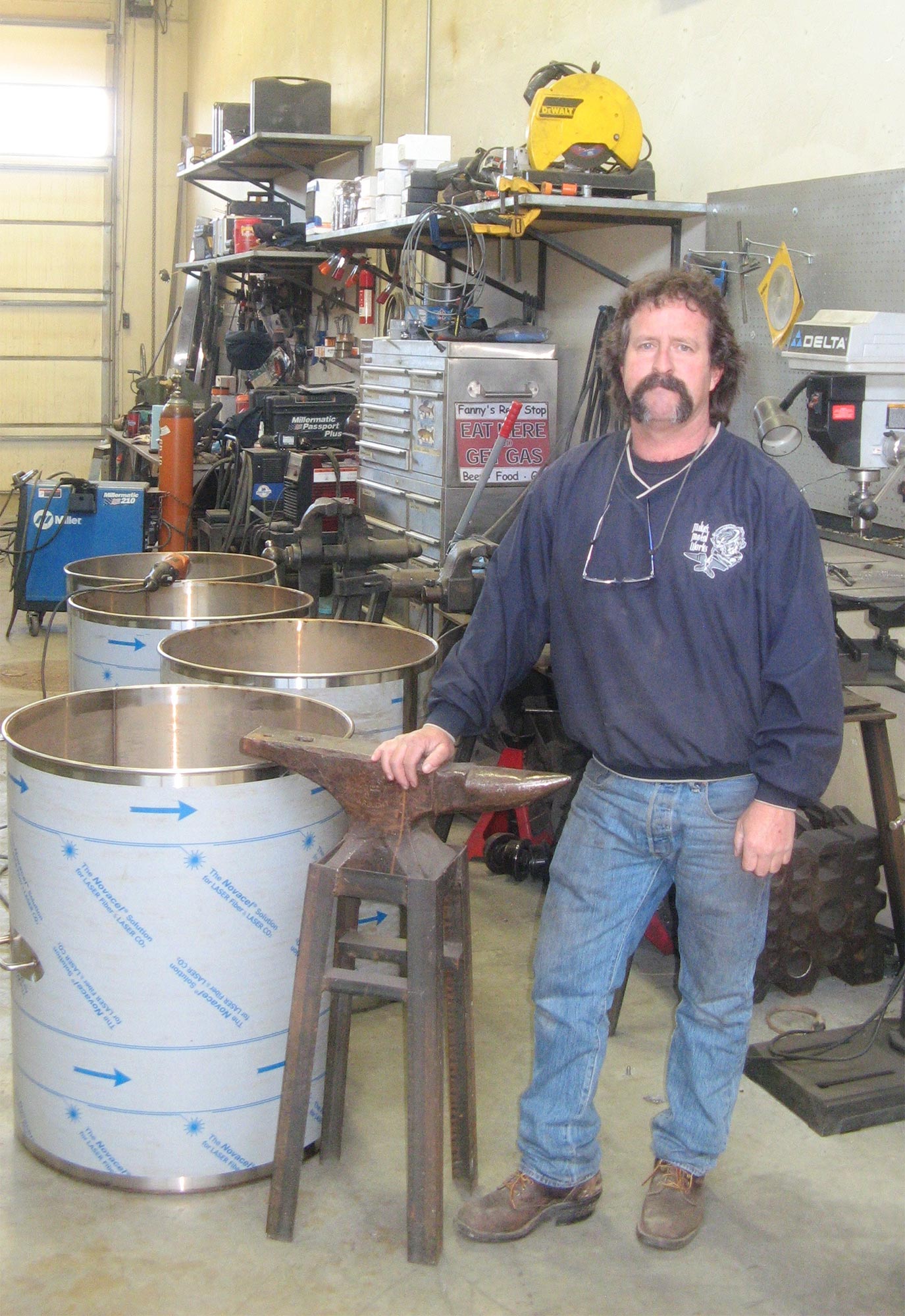 Mike Winters
Owner, Metalworker
Mike Winters has been in business since 1986 after several years of working in roofing and sheet metal. Mike's Metal Works maintains a full service sheet metal shop with shears, brakes, rolls, turners, punches, forge, welders, plasma cutting, roll forming, and English Wheel. Mike's true passion is copper work. Mike's has welding capabilities for copper, steel, stainless steel, and aluminum as well as other exotic metals.
Mike's work has been published in such periodicals as Cowboys and Indians. Mike's shop and business philosophy are very "old fashioned", and use no computer layout. Trammels, dividers, and rules are the time tested, reliable tools of the shop. The shop anvil has been in the family for over a century and was handed down from his Grandfather. Mike's shop only employs two or three select workers. This ensures personal, personable, professional, and courteous service on every project.